RACE DETAILS
Transmarocaine is an integral Sport Orienteering, organized for the first time in 2006.
Since then it takes place every year and enjoyed great success with demanding sportsmen and nature lovers.
Each year, some 40 to 50 teams of 2 people (on average, 50% of men teams, mixed teams 35% and 15% girls teams), are participating in this adventure is to win this race became legendary for European stiffness or to do well in the rankings. In the end, everyone want to live a great adventure with his or her partner.
racing graphic 2017: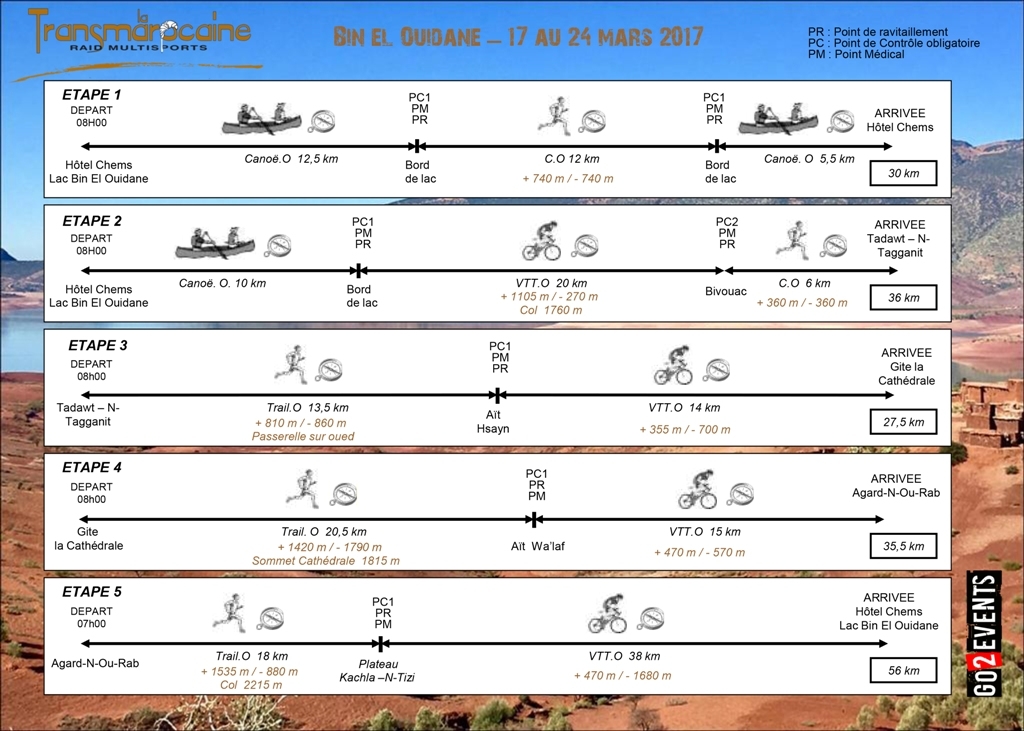 Transmarocaine is organized every year in one of the provinces of Morocco between mountains and deserts. This durable multisport raid is played by teams of two people, men or women, united by common values. Through five stages of 30 to 60 kilometers a day, participants leave to the discovery of unlikely places offering breathtaking panoramas.
Discover, excel, give, share, respect ... are the values of the Transmarocaine.
Discover: with a backpack, forgetting its benchmarks for live meetings and open up to the world.
Excel: Power go self noble end in different sports disciplines and "clean".
Giving and sharing: By creating a gateway to the visited populations and bring some happiness shared.
Respect: Respecting people and protecting the nature of the host country.
An orienteering where versatility is required
Evolve in pairs using a map and compass: this is the principle of Transmarocaine race . The purpose of this multisport raid is to make extraordinary journey in consecutive concatenation trail, mountain biking, canoeing and running, and that, for five days of intense competition. Each team must find in a defined time, as many tags as possible from the place of departure and arrival. Each unrecovered tag generates penalty points depending on its position. Competitors will face a real sporting challenge while living a real adventure in the sumptuous settings of the Atlas Mountains
Transmarocaine 2017: a 12th in the Lake Bin El Ouidane!
The 12 th edition of the raid multisport Transmarocaine be held from 17 to 24 March, 2017 around Lake Bin El Ouidane in the heart of the Atlas Mountains, located between Beni Mellal and AZILAL. This stage race promises even more thrills by always part of a competitive spirit and solidarity.
Program, 5 stages of 50 to 70 km a day with events such as VTTO (Bike orientation), CO (orienteering), Run & Bike (a competitor to the other foot and bicycle), Canoe and Trail . Each day, participants will at least 3 sports alternately.
(The raid of the program will be posted in the month of November 2016 after the land reconnaissance.)
Friday, March 17: Arrival of competitors to the hotel in Marrakech
Saturday, March 18: transfer to the hotel Chems 4 * at Lake Bin El Ouidane- bibs - scrutineering.

From Sunday 19 March to Thursday, March 23: 5 steps in the area of Lake Bin El Ouidane.
Friday, March 24: Return of competitors in Marrakech (with possibility to extend the stay)
A challenge under the sign of solidarity
By participating in this sporting event, teams provide support and assistance to the most disadvantaged Moroccan populations. By organizing the race, GO 2 EVENTS identifies needs of the villages to better anticipate support. It is also working with various local associations that GO 2 EVENTS determines the useful contributions. From there, teams and partners are urged to set up the donations that will be distributed during the Transmarocaine race.